MARCIE THOLE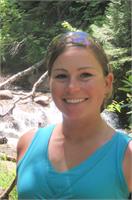 MASSAGE THERAPIST
Quote: "The best journeys answer questions that, in the beginning, you didn't think to ask."
Therapy Provided: General Relaxation/Rejuvenation, Deep Tissue/Needs Specific, Pregnancy, Sports
Training: BAS in Exercise Science. 750-hour program at the Cortiva- Desert Institute of the Healing Arts (now Cortiva Institute) – Tucson, Arizona. Upledger Craniosacral Level I. Creative Thai Yoga Massage 80 hour curriculum- The Yoga Forest, San Marcos La Laguna, Guatemala.
What I enjoy most about bodywork: The drive to help people is as inherent in massage therapy as it is in firefighting. Body work brings me balance- a way I can help people in a calm, quiet, safe setting. I really enjoy that I can go beyond just mitigating a problem, and actually improve someone's quality of life.
Biography: I grew up in Benson MN and joined the Air Force soon after high school. I was a meteorologist stationed in Tucson AZ, where I decided to pursue education and training in massage therapy. I separated from active duty in 2008 and joined the Air National Guard here in Duluth and attended UMD. At this time I made a career change from meteorology to airfield firefighting, and completed my AAS degrees for both. I worked as a massage therapist at UMD while I finished my BAS in Exercise Science, and also volunteered for their outdoor program, teaching outdoor skills and sports, and leading multi-day trips for students and community members. I separated from the military in 2015 and currently work as a firefighter for the City of Duluth. I spend much of my time traveling and doing almost every imaginable outdoor sport. My husband, children, and my dog join me for many of my adventures.

My massage style: I am a well rounded person who brings a variety of skills and experience to my massage practice. Being an athlete, I enjoy working with the athletic community as well as with prenatal, geriatric, injured and special needs clients. I am excited to meet and help new clients, and am eager to tailor each session to my clients' specific needs.

Hours: Marcie's hours vary due to her position as a firefighter with the City of Duluth.
October: 2nd 3:00pm-9:00pm, 5th 8:00am-2:00pm, 10th 3:00pm-9:00pm, 14th 8:00am-2:00pm
November: 15th 8:00am-2:00pm, 20th 8:00am-2:00pm, 22nd 3:00pm-9:00pm, 24th 3:00pm-9:00pm
December: 20th 8:00am-2:00pm, 22nd 3:00pm-9:00pm
MARCIE THOLE is currently not instructing any classes.