KORI BOATMAN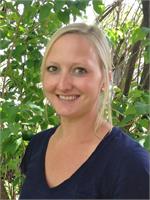 MASSAGE THERAPIST
Quote: "Like wildflowers you must allow yourself to grow in all the places people never thought you would"

Therapy Provided: General Relaxation/Rejuvenation, Deep Tissue/Needs Specific, Sustained Deep Pressure, Pregnancy, Swedish, Reflexology, Geriatric
Training: 1050 hours at Duluth Business University.

What I enjoy most about bodywork: The love that I have for bodywork all started when I was a young child with my grandmother. She would have me massage her feet after a long day and the results were priceless. She felt so relaxed and at ease. From then on, I have always wanted to work as a massage therapist. I truly enjoy spreading my natural gift to heal others; not just physically, but emotionally and spiritually. Helping my clients achieve the healing and attention they need to live a healthy and happy life, gives me the opportunity to love and grow as a person and better my massage practice.

Biography: I was born and raised in Grand Rapids, Minnesota. Soon after high school I attended Itasca Community College for the nursing assistant program. In 2007 I moved to Duluth to attend Duluth Business University for their massage therapy holistic program. While working full time at Interim Health Care and going to school, it was confirmed that this is what I absolutely love best! Soon after getting my massage degree I moved out west to Jackson Hole, Wyoming to work at a high end resort and spa. After some months, I had to say goodbye and come back home to Duluth. I then worked at Elysium Salon and Spa for the last four plus years. As I wanted a change in my work environment, I was honored that Eagles Nest wanted me to join their team. When I am not working, I love the outdoors; whether it be fall, winter, spring or summer, I will be out there enjoying each aspects of weather we are granted!

My massage style: My massage has flow and fluidity that is relaxing and therapeutic at the same time.I have great intuition and ability to integrate from light to very firm, as to what each client is looking for.

Hours: Wednesday 8:00am-2:00pm, Thursday 3:00pm-9:00pm, Friday 8:00am-2:00pm, and every other Saturday 8:00am-2:00pm
KORI BOATMAN is currently not instructing any classes.