NATALIE FOSSUM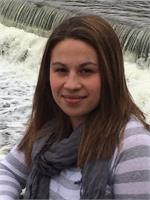 MASSAGE THERAPIST
Quote: Embrace and love your body. It is the most amazing thing you will ever own!
Therapy Provided: Swedish/General Relaxation Massage, Deep Tissue/Needs Specific, Trigger Point Therapy, Pediatric Massage
Training: Graduate of a 735 hour Therapeutic Massage Program at Herzing University in 2013.
I became state licensed and nationally certified along with a certification in Pediatric Massage Therapy through Liddlekidz Foundation in 2013.
What I enjoy about bodywork: I enjoy showing people that they don't have to accept life with the every day aches and pains. Massage not only has a unique affect on the nervous system, but also the muscles and bones in which they move. I believe there is always something positive that can be extracted from getting bodywork and I encourage everyone in all stages of life to allow themselves the opportunity to receive a massage.
Biography: I graduated from Herzing University of Therapeutic Massage School in 2013. I have worked and gained experience in both the Spa and Chiropractic setting. In an effort to expand and develop my career as a massage therapist I recently relocated back to the Duluth/Superior area where I was born and raised. Here is where I find the natural beauty, positive energy and the perfect work environment. Aside from work I enjoy spending time outdoors specifically on the water fishing with my wonderful husband and our two beautiful children.
My massage style: As a licensed massage therapist it is my job to treat both the mind and body through the power of touch. My massage techniques are deeply relaxing, therapeutic, and all sessions are tailored to the needs of each individual. I customize each session to help you meet your goals and to overall improve your quality of life.
Hours:
Monday, Tuesdays, Wednesdays and Every Other Saturday 8:30am - 2:30pm
NATALIE FOSSUM is currently not instructing any classes.