BRITTANY SEEBER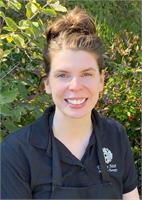 MASSAGE THERAPIST
Quote: "Let your smile change the world, but don't let the world change your smile." ~unknown
Therapy Provided: General Relaxation/Rejuvenation, Deep Tissue/Needs Specific, Sustained Deep Pressure, Pregnancy
Training: 625 hours at Lake Superior College.

What I enjoy most about bodywork: I love seeing the positive results at the end of the session(s), whether it is helping the client de-stress or treating a lingering injury. It is rewarding to be the bright part of someone's day.

Biography: I was born and raised in Two Harbors, MN. While I was attending Lake Superior College for my A.A. degree, I received my first massage as a Christmas gift and I was immediately impressed by massage therapy and the wonderful benefits that it has on one's body, mind, and spirit. My next semester I enrolled in the massage therapy program. I thoroughly enjoy my work and couldn't see myself doing anything more rewarding. In my free time, I enjoy running, crotchet, baking, fishing and camping with my family.

My massage style: I like to cater each massage session to the client's needs, varying from relaxation to deeper, specific work on a problem area.
Hours: Wednesday's 8:00am-2:00pm, Thursdays 3:00pm-9:00pm, Friday 8:00am-2:00pm, and every other Saturday 8:00am-2:00pm
BRITTANY SEEBER is currently not instructing any classes.