TINA HIGGINS WUSSOW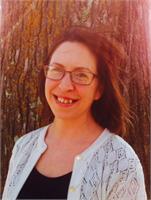 ASSISTANT MANAGER
Quote: "And now that you don't have to be perfect, you can be good." -John Steinbeck

What I Enjoy Most About my Work: Eagle's nest is a true sanctuary where both employees and
clients can come as they are and be accepted. It is a gift to be able to give and receive kindness,
compassion, and love. Working at Eagle's nest is a quiet and constant reminder that we are all in this together.

Biography: Back in March of 2008 I moved to Duluth and it was the coldest, most gloomy spring I ever
lived through! Who knew I would fall in love with everything about this place, even the annual
springtime challenge? I have an MFA in Creative Writing from Hamline University and teach
part time in the Writing Studies Department at UW-Superior. I write poetry and short fiction,
host a monthly Spoken Word Open Mic & the Homegrown Poetry Showcase, and serve on the
board of directors of the Spirit Lake Poetry Series. I also enjoy, though do not claim to be good
at, gardening, running, and baking. I live just a half block from Eagles Nest with Henry, my
delightfully neurotic mystery terrier, two goldfish, and my amazing husband
TINA HIGGINS WUSSOW is currently not instructing any classes.