LAURA KIRWIN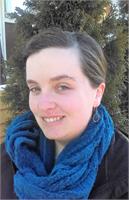 ASSISTANT MANAGER
Quote: "One of the secrets of life is that all that is really worth the doing is what we do for others." -Lewis Carroll
What I enjoy most about my work: I take immense joy in helping anyone I can to the best of my ability so naturally the position of Assistant Manager fits well for me. Working in a truly relaxing environment with some of the nicest people I've ever met is amazing and appreciated on so many levels. I look forward to helping those who come through our doors and try to make their day a little brighter.
Biography: After years of working hard in Rochester MN after high school, I moved up to Duluth in 2005 to be near the lake and all the nature trails it has to offer. Since then I have been camping, hiking, cooking, photographing, and even getting married on the lake with my husband Michael. Along with my adorable corgi Juni and kitty Oliver, we love waking up to seeing what the lake view is daily which always starts our day off right. When I'm not in the wilderness, I am a baker at a local coffee shop and world traveler. I also enjoy spending time with my friends drinking lots of coffee, listening to music, seeing plays/musicals and going to art shows!
LAURA KIRWIN is currently not instructing any classes.