ENIKO HUNTER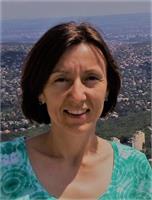 MASSAGE THERAPIST
Quote: "With every deed you are sowing a seed, though the harvest you may not see." -Ella Wheeler Wilcox
Therapies provided: General relaxation/Swedish, Deep tissue/Needs specific, Lymphatic drainage, Pregnancy and Geriatric massage
Training: over 650 hours at Lake Superior College
What I enjoy most about bodywork: I love seeing the results of connecting touch via massage treatments that make a positive impact in someone's day.
Biography: My life's journey led me from my native country of Hungary to several countries while working for non-profits and also to meeting my husband, a native Minnesotan. A few years ago we moved to Duluth and I then enrolled in the massage therapy program at Lake Superior College. It's been my long-held conviction that balance between mind-body-spirit is integral to optimum wellness. I feel that it is through massage therapy that I can best contribute to the well-being of others. Aside from massage therapy I enjoy cooking, reading, and exploring the beautiful nature around Duluth with my wonderful husband and our fun Boxer dog.
My massage style: I like to tailor each massage to the individual's needs and goals in the particular session whether it's just relaxation or relief from tension and pain.
Hours: Every other Monday, every Friday and every other Saturdays 3-9 PM
ENIKO HUNTER is currently not instructing any classes.