ANGEL JOHNSON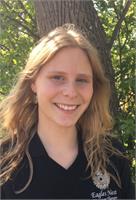 MASSAGE THERAPIST
Quote: "Be optimistic, it feels better." -The 14th Dalai Lama

Therapy Provided: Swedish, Relaxation, Deep Tissue, Needs Specific, Pregnancy, and Lymphatic Drainage

What I enjoy most about bodywork: I love giving people the space and opportunity to relax and take care of themselves. I feel a deep connection with all my clients but really tune into those who have chronic headaches, migraines, and neck issues as I have struggled with that myself. I love being apart of one's self care.
Biography: I grew up in Cloquet, and was given the amazing opportunity of traveling to Europe for the first time at six years old with my best friend, my grandpa. My grandma is 100% Italian and I still vacation and visit family there almost every summer. I was a competitive dancer and cheerleader throughout high school. I received my AA degree at LSC where I later returned for massage therapy. I came into massage therapy by quite literally stepping back from everything I was doing and finally realizing what my passions were. Since day one of the massage therap program, I knew that this was right for me. Along with massage and believing in the power of touch and energy healing, I very much value other ancient aspects of natural wellness such as yoga and nutrition. In the future I would like to become fluent in Ayurveda health education and specialize specifically in pregnancy and infant massage as well as yoga. I love to read, cook, garden, explore the Duluth yoga scene and local nature. I am involved with some local environmental groups in the area and do my best to live a lifestyle of sustainability. Helping others has always been very natural for me and it led me to working in assisted living and group homes for the majority of my adulthood.
My massage style: I would describe my work as rhythmic and focused. It's very important for me to get in tune with the energy on my table, that's when and how the magic happens.

Hours: Monday, Tuesday, Wednesday 8:00am-2:00pm, every other Saturday 8:00am-2:00pm, every other Sunday 12:00-6:00pm

ANGEL JOHNSON is currently not instructing any classes.