ANDREA MEYER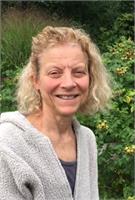 MASSAGE THERAPIST

Quote: "Just trust your own voice
And keep exploring the things that are interesting to you."
-Nikki Giovanni
Therapy Provided: Relaxation/Swedish, Myofascial Release, Reflexology, Pregnancy, Trigger Point, Sports
Training: 600 hours at Northern Lights School of Massage Therapy
What I Love Most About Bodywork: There are a plethora of reasons that I love this work. I am blessed to do a job where people walk away feeling better than when they walk in. I enjoy combining work that is grounded in the the teaching and bodywork I have received as well as incorporating my own intuition.
Biography: I grew up near St. Paul. I was a varsity athlete in high school and in college at UMD. I obtained a MA in Physical Education from Montana State University and always had an interest in massage therapy, first as a means to recover from training and competing, then as a means to recover from injury. After my training at Northern Lights Massage School I worked in a neurology clinic, chiropractic office, day spas, as well as a high end resort. I had moved to California, and decided to further my career and embarked on a path to become a registered nurse. As a nurse, the universe has funneled me into the specialty of psychiatry. I have worked at a residential treatment center for eating disorders, and a psychiatric crisis facility. I am now enjoying being back in Minnesota, with one son in Minneapolis, and one in Sweden. In addition to my work here at Eagles Nest as a massage therapist I am also working at a psychiatric facility as an RN. I am grateful to be working in the two fields that I am passionate about.
My Massage Style: My style is intuitive, blending a variety of modalities to fit the needs of my clients.
Hours: Tuesdays and every other Saturday 8:00am - 2:00pm
ANDREA MEYER is currently not instructing any classes.