HOLLI SACHS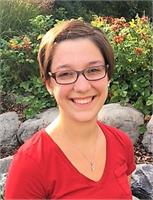 MASSAGE THERAPIST
Quote: Happiness is when what you think, what you say, and what you do are in harmony. -Mahatma Gandhi

Therapy Provided: Relaxation, Deep Tissue, Pregnancy, and Needs Specific

Training: Over 600 hours at Lake Superior College

What I enjoy most about bodywork: I love seeing my client's reactions before and after sessions. The positive effect it has on someone's mood, day, or even month.

Biography: I grew up on a dairy farm outside of the small town of Albany near St. Cloud Minnesota. In 2013, I moved to Duluth to pursue and find what I wanted in life. Since I moved to Duluth I have found many new interests and hobbies. I enjoy spending time with my husband, puppy, and kitten and taking long hikes during the weekend. I also have recently started doing crafts with my mother when I travel home. I have always known how important it is to help people and be a part of someone's life. I worked in a nursing home for many years, but I knew I wanted more. I was eventually led to massage therapy, and I couldn't be more pleased. It is a wonderful fit for my life. I am very happy to be a part of the Eagles Nest team.

My massage style: I have been told by many clients that I have very good intuition as a therapist. I focus on what the needs are of the person and intuitively listen through my hands to the needs of their body.

Hours: Monday 8:00am-2:00pm, Tuesday 3:00pm–9:00pm Every other Saturday 3:00pm-9:00pm, Every other Sunday 12:00pm-6:00pm
HOLLI SACHS is currently not instructing any classes.