MARY CLAIRE PICARD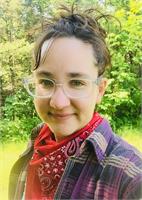 MASSAGE THERAPIST

Quote: "Guess why I smile a lot?... Because it's worth it." –Marcel the Shell
Therapy Provided: General Relaxation, Deep Tissue/Needs Specific, Pregnancy

What I enjoy most about body work: Body work gives me the chance to help clients get to a quiet and centered place. In a world where we are constantly on the go, massage is an opportunity to slow down and refocus. As a massage therapist, I consider it an honor and a privilege to help people achieve a sense of inner peace.

Training: 780 Hours at Saint Paul Community College, 150 Hours Traditional Thai Massage at Baan Hom Samunphrai, Thailand.
Biography: I grew up in St. Paul, however I was always drawn to the North Shore. Between frequent visits to Duluth to see family and numerous camping trips in the Boundary Waters I developed a love for the lake and the woods. After graduating high school I moved to Grand Marais for a while and made my way to Lutsen and Ely working all sort of seasonal jobs. My early twenties were filled with lots of interesting jobs/adventures- cabin building, dog mushing, exterior painting, etc. In 2015 I went to Saint Paul College for massage therapy and that was when I found what I was truly passionate about. After graduation I worked independently as a massage therapist and as a server in a busy restaurant in Minneapolis. Massage therapy eventually brought me to Thailand the spring of 2018 where I learned traditional Thai massage which I have integrated into my practice here. I have found a supportive community here at Eagles Nest and couldn't be happier. I'm looking forward to growing as a therapist and as a member of this beautiful community.

My massage style: I bring a strong and nurturing sense to the massage table. I like to instill comfort and ease in my clients so that they are able to relax and turn their focus inward.

Hours: Mondays, Tuesdays, Wednesdays, every other Friday, every other Saturday, 3:00pm-9:00pm, Every other Sunday 12:00pm-6:00pm
MARY CLAIRE PICARD is currently not instructing any classes.